Charts and Graphs
The most important part to making a chart is getting great data that shows changes over time, reveals patterns over time or helps understand the relationship between one data set and another. Without interesting data your graph or chart won't contain a good story. You can refer to the data analysis and data reporting resources if you need assistance with that.
STEP 1: LOG-IN
We will be using Google Spreadsheets to work make basic charts and graphs.
Log into Google Drive (Please get in touch with multimedia for login details).

STEP 2: CHOOSE A CHART TYPE
Pie Charts and Donut Charts
Pie charts and donut charts are great in showing proportions of categories within a whole. They are particularly effective when used with simple and straightforward data sets.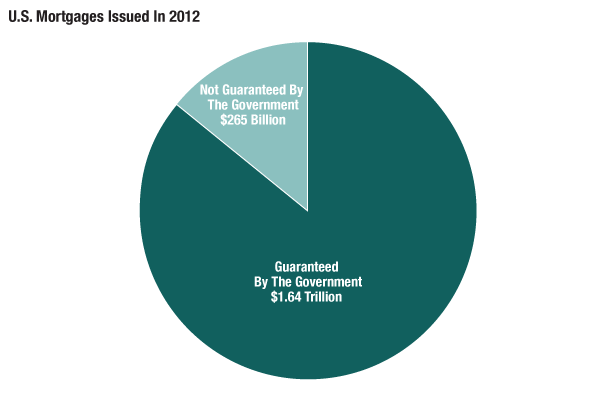 Source: Inside Mortgage Finance
Be wary, however, of visualizing a complicated data set. Once you try to visualize more than five different categories within a pie chart or donut chart you run the risk of confusing your viewer and muddying your message.
This means that at times you might have to consolidate data to build an effective pie chart or donut chart. Or it could mean that you need to find a different way to visualize your data.
If you would like to make a pie chart please use this pie/donut chart template.
Line Graphs
Line graphs are great in representing trends or interesting occurrences within a data set over time. The key here is that you can plot changes, patterns or unusual events over time. This line chart shows how much longer people are out of work than they have been previously:
Source: Bureau of Labor Statistics
Another way to use line graphs is to show change within different categories over time. This example about energy uses over time shows us how much our energy consumption has increased and how much it was diversified as well: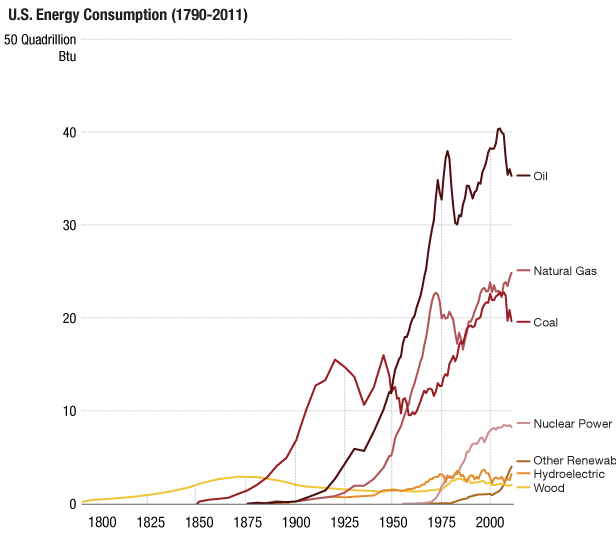 Source: Bureau of Labor Statistics
If you would like to make an area chart please use this area chart template.
Area graphs
Area graphs show trends over time for data that are part of a whole. In some ways you could think of it as having the same function as a pie chart (showing proportions) but over time. This area graph shows the growth in disability awards over time by category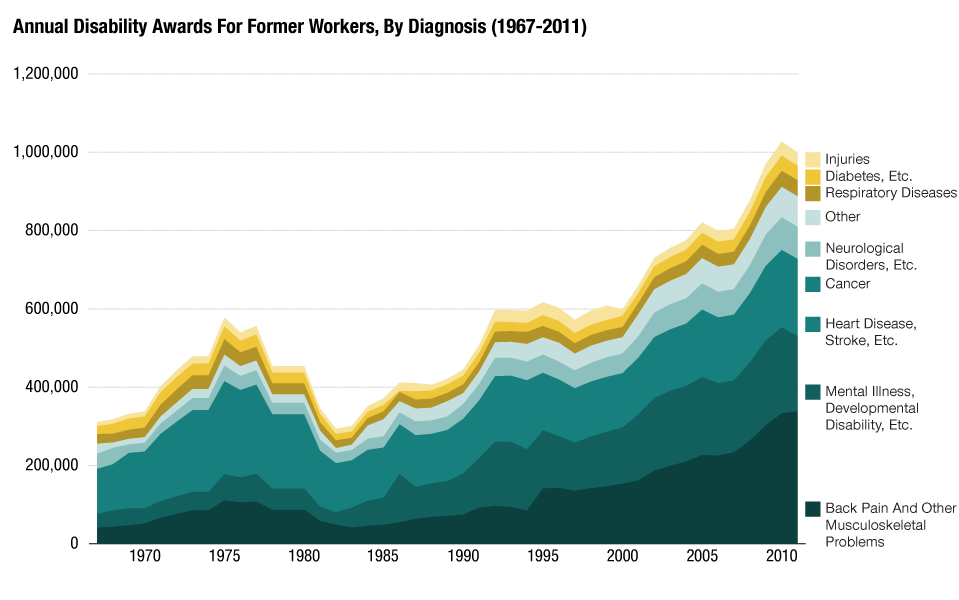 Source: Social Security Administration
If you would like to make an area chart please use this area chart template.
Column Graphs and Stacked Column Graphs
Column graphs are similar to line charts - they have the ability to plot values over time. But they are sometimes a better choice when you only have a sparse data set (yearly data instead of monthly data for a 4 year time span, for example). To plot a line chart with that sparse a data set can seem misleading - a line can sometimes lead people to think of trends within a data set when a column graph can seem as if it shows the yearly data in isolation.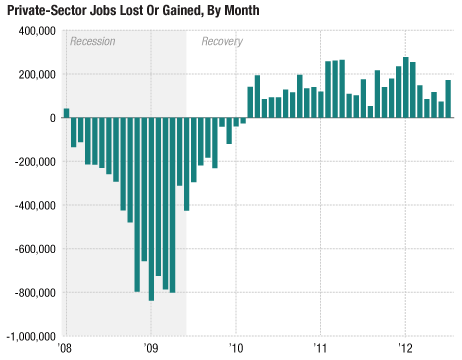 Source: Bureau of Labor Statistics
If you would like to make a column graph please use this column graph template.
Stacked column graphs are similar to area graphs - they can show proportions within a whole over time.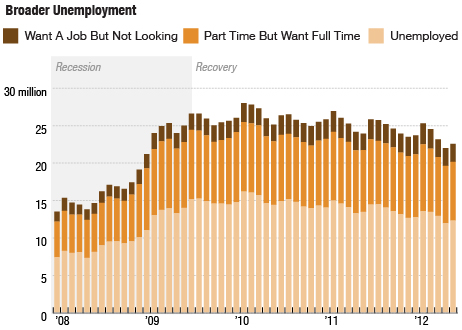 Source: Census Bureau
They can be a good alternative to a pie chart - especially if you have more categories than would be good to show in a pie chart.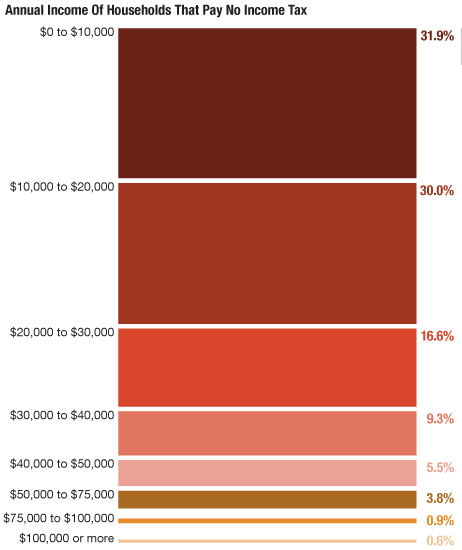 Source: Bureau of Labor Statistics
If you would like to make a stacked column graph please use this stacked column graph template.
Bar Charts and Stacked Bar Charts
Bar charts are very similar to column graphs, they just face a different direction (column graphs are vertical, bar charts horizontal). They can display values of different categories and are also a good alternative to a pie chart if your data gets complicated.
One nifty way in which they are slightly different though is that you can use them to rank information. This chart here shows not just how many billions in treasury bonds each country held, but it also ranks them by how much they hold. This creates a clear hierarchy between those countries, an important piece of information when trying to understand who holds American debt: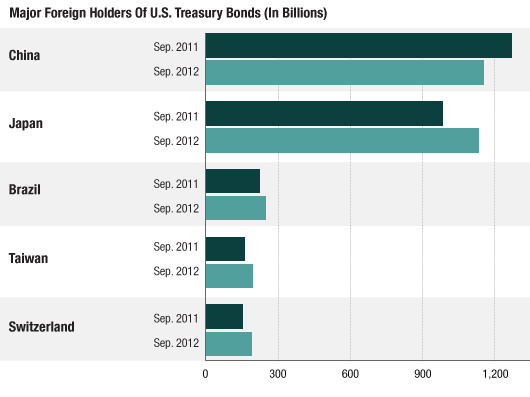 Source: Department of the Treasury/Federal Reserve Board
If you would like to make a bar chart please use this bar chart template.
For a stacked bar chart please use this stacked bar chart template.
STEP 3: MAKING AND PUBLISHING YOUR CHART
Inputting Your Data
Click "Use This Template" and input your data into the fields. Clicking this button will create a new Google Spreadsheet in your Google Drive.

Once you have a copy of the template in the google drive you can change the title of the spreadsheet to MMYYDD-SLUG-NN (Date-Slug-Editor initials). You can copy and paste cells and add rows and columns as needed.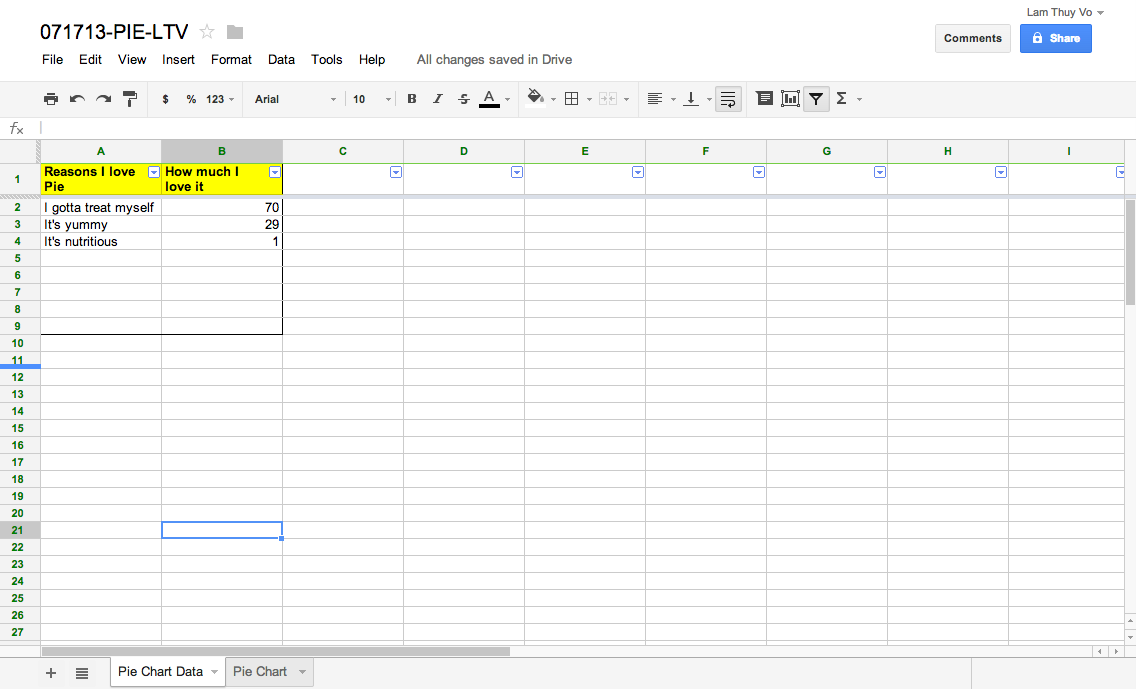 On the bottom you will see two tabs. Go to the second tab, which contains your graphic.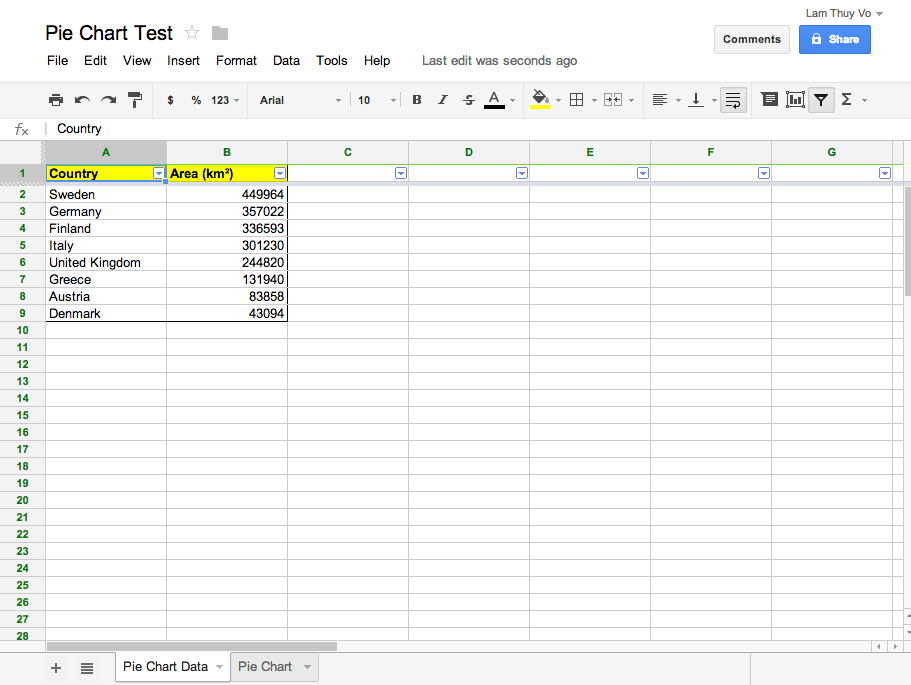 Then go to advanced edit. A window will pop up. Go to the first tab of the window called "Start". This window allows you to make sure the right data is selected for your graphic. Click on the little gray grid icon on the right under "Data - Select ranges..."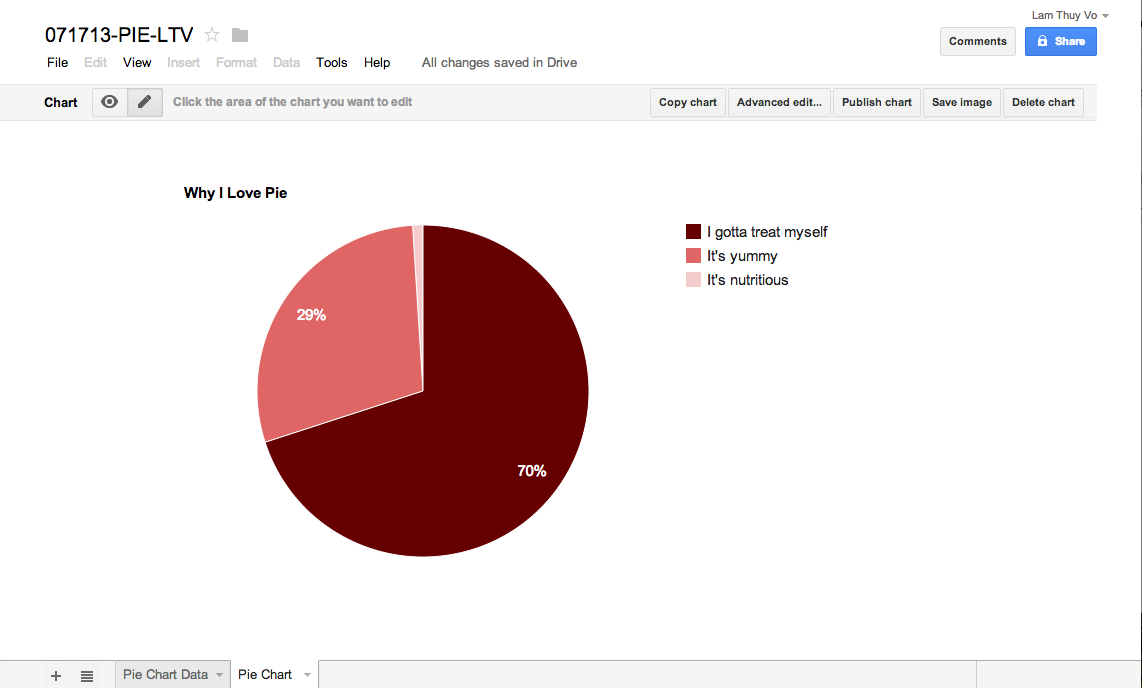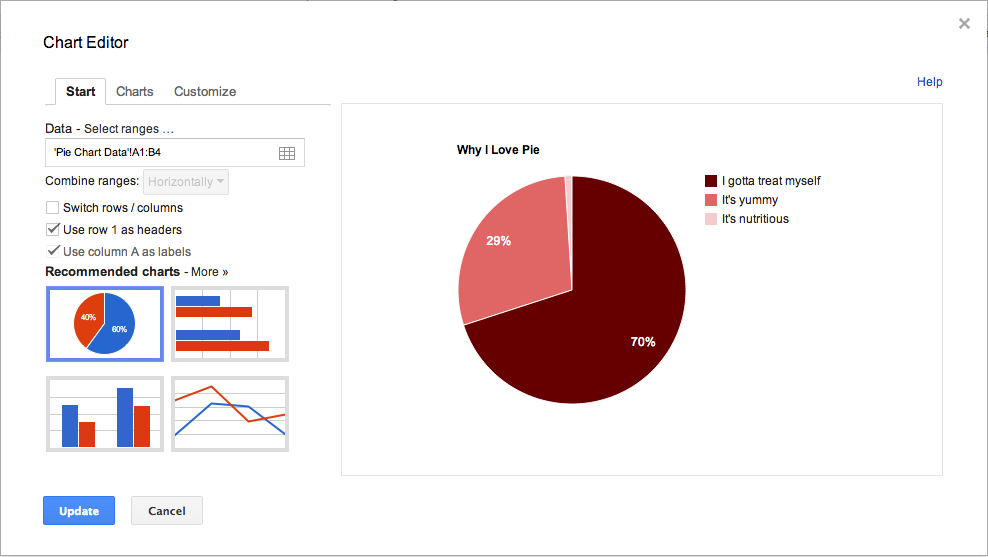 This is the pop-up window.
That should prompt a small window. Leave it open. Go back to the first sheet that contains your data using the left tab on the bottom. Click and hold down to select the cells and data you want to include in your graphic.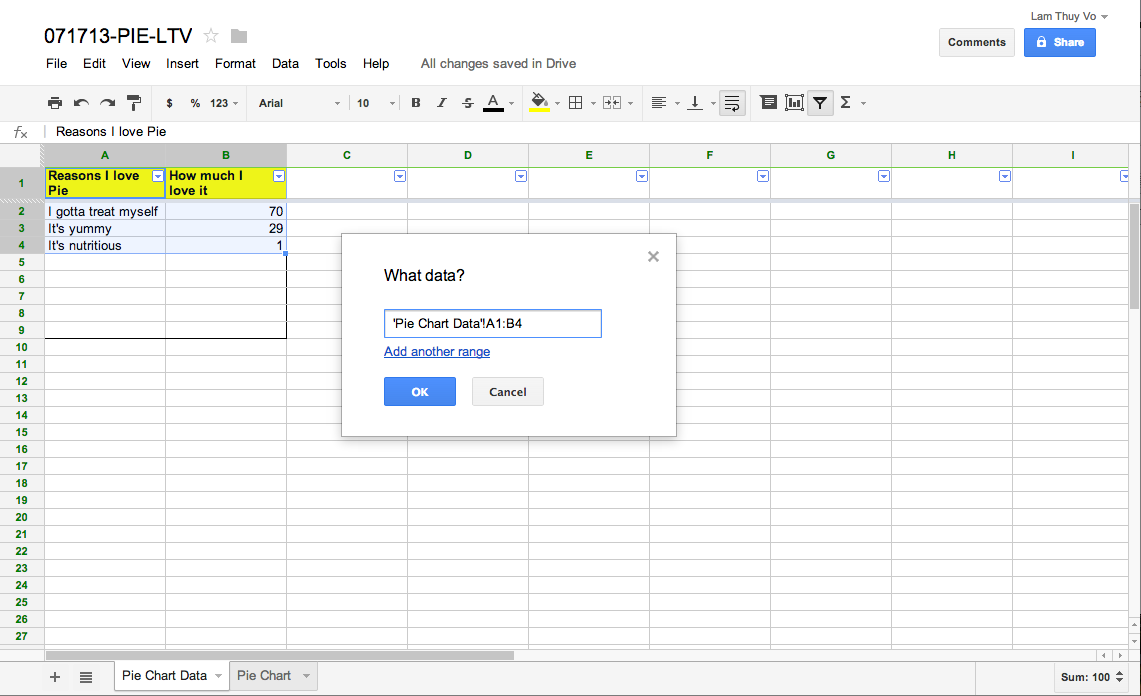 Styling Your Chart
Now that you've selected the content of your graphic, you can style it. Go back to the tab the contains your chart. There are a few ways you can customize your charts. You can make visual edits to your graphic by clicking on the elements you want to modify.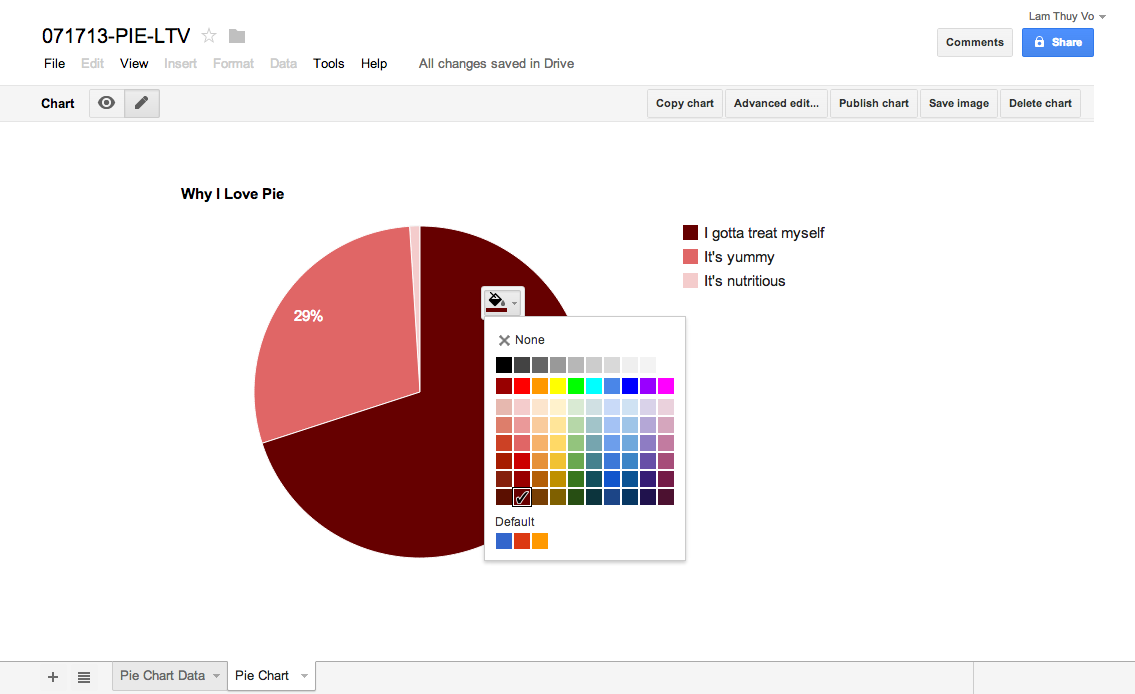 Another way to style your charts is to go back to the "Advanced edit.." pop up and modifying the chart within the "Customize" tab.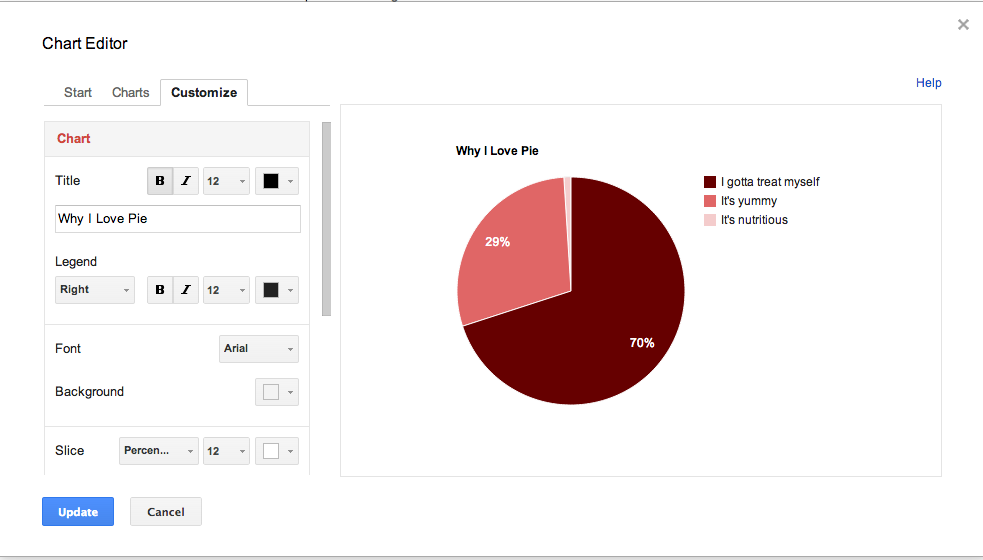 Publishing Your Graphs
Now that you're happy with your chart you have to publish it by clicking "Publish chart." This window will pop up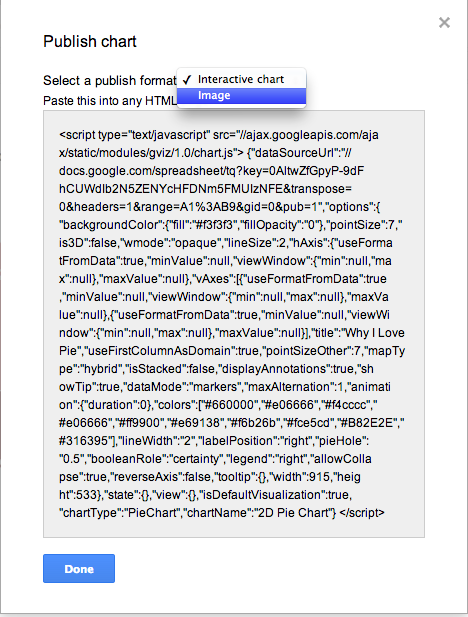 Select the dropdown menu that says "Interactive chart" and select "Image."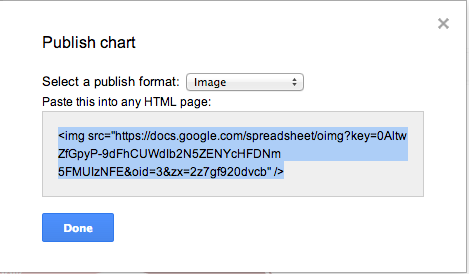 Copy and paste the code into a document. Add width="100% right after the link within your embed code. And a source line right after it. This is what your code should look like:

Source: Lam's Tummy
More Google Spreadsheet Graphics Resources:
A step-by-step rundown of making charts is here. Editing and Formatting Charts can be found here. For information on specific chart types, go here.